IAFF Headlines
Current news directly from IAFF locals, councils, and state/province associations in the US and Canada.
Yonkers Fire Pipe Band Pub Night at The Yonkers Brewery!
02/26/15 - YFD Band
Come down and check out what's happening at the Yonkers Brewing Co. , and at the same time, help us kick off the High Holy Season as we run through our final practice. We anticipate playing around 7:30, but you might want to get there a little earlier so you can sample the Fine Brew the boys are putting out. There will be a 50/50 as well as band merchandise for sale.
Special Call Meeting
02/26/15 - Mesquite FireFighters
February 27, 2015 8:30 PM 321 S. Galloway
Retirement for Local 2687
02/26/15 - Hamden Professional Firefighters
February 26, 2015 Yesterday marked the last shift for Hamden Firefighter Greg Pereira. Greg is retiring after 20 years of service as a Firefighter/Paramedic. Thank you for your dedication and service, and Local 2687 wishes you a long, happy, healthy retirement. Congrats.
Local Membership Meeting
02/26/15 - National Capital Federal Firefighters
A Local Meeting will be held on the following dates: Saturday March 7, 2015 at 1830 hrs. Sunday March 8, 2015 at 0900 hrs.
Convention Baseball game
02/26/15 - Pennsylvania Professional Fire Fighters Association
For any Delegates/Alternates Family and guests arriving in Bethlehem for the State Convention on Monday May 11 we will be hosting a night at the Lehigh Valley Iron Pigs (Phillies Minor League Team). The Pigs will be taking on the Columbus Clippers at 7:05pm. We have limited number of tickets reserved for the PPL Patio. Tickets are $25.
Missouri Auditor Tom Schweich
02/26/15 - Missouri State Council of Fire Fighters
Our thoughts and prayers are with Missouri Auditor Tom Schweich and his family.
St. Baldrick's 2015
02/26/15 - Aurora Fire Fighters
Hello AFD, It's the time of year that we join together to show our support for children suffering from cancer and the families that support them. Aurora Fire Fighters Local 1290 is teaming up once again with the St. Baldrick's Foundation. 2014 was our inaugural year and we raised over $11,000.
Food Drive
02/26/15 - IAFF Local 21
2nd Annual Hockey Game
02/26/15 - IAFF Local 892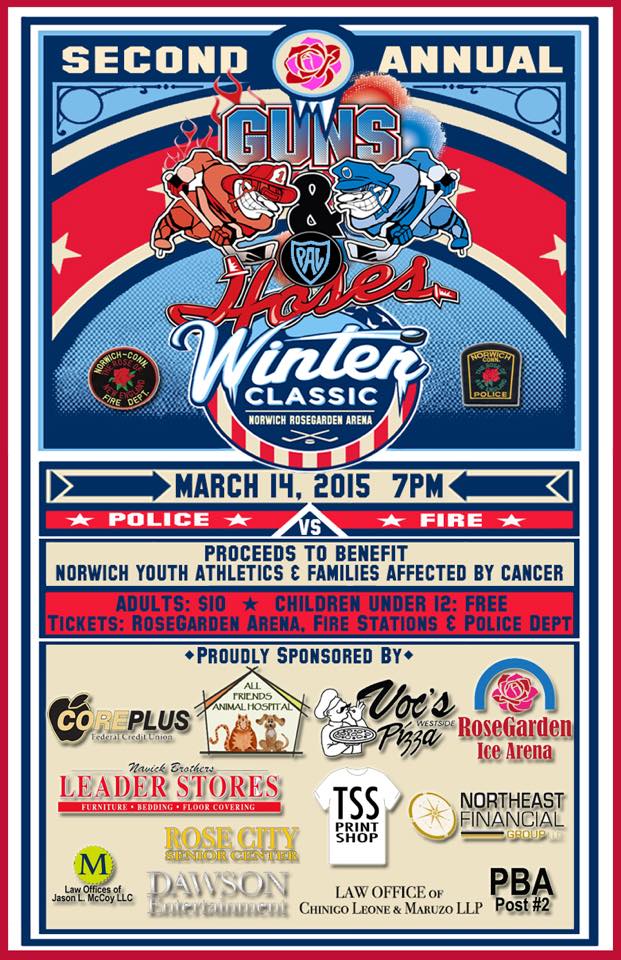 The 2nd Annual Guns vs Hoses Hockey Game will be held on Saturday, March 14 at 7pm at the Rose Garden Arena. The members of Local 892 will take to the ice to play a game against the Norwich Police Department. Come out and support a great cause. Proceeds from the event go to benefit the Norwich Youth Athletics and Families Affected by Cancer.
Michigan Right to Work law would extend to police, firefighters under Midland lawmaker's proposal
02/26/15 - Michigan Professional Fire Fighters Union
LANSING, MI -- A newly-elected state representative from Midland has drafted legislation to extend the reach of Michigan's Right to Work law to public safety personnel, the only union members exempt under the 2012 law.
City Council Meeting February 24, 2015
02/25/15 - IAFF Local 51
Election day and canvassing
02/25/15 - IAFF Local 73
Brothers and Sisters, We've entered the home stretch of the 2015 aldermanic election season. Together we've made endorsements in several races which have garnered a lot of attention in both the community and political circles.
Next General Body Meeting
02/25/15 - Local 2580
The next General Body meeting is Sun., 3/1/15 (C-shift; B-shift off-going) at 0800hrs at Training.
Lansing firefighters battle blaze in subzero temperatures
02/25/15 - Michigan Professional Fire Fighters Union
LANSING – The elements either work with you or against you when fighting fires in subzero weather. It's all in how you respond and prepare, Lansing area firefighters said.
Eastpointe, Hazel Park voters approve 14-mill boost for public safety
02/25/15 - Michigan Professional Fire Fighters Union
Residents in cities 10 miles apart but sharing fiscal decay issues on Tuesday voted to pool their financial resources together to fund public safety in Eastpointe and Hazel Park.
Services for Brother Darrick Miles
02/25/15 - IAFF Local 1403
The services for Retired Brother Darrick Miles are as follows: February 28 C shift Viewing at Royal Funeral Home 4:00 PM- 8:00 PM 17475 NW 27 Avenue. March 1 A shift Memorial Service at the Union Hall 3:00 PM 8000 NW 21 Street.
Save the Date
02/25/15 - Toy Program
Contract Proposal Meeting
02/25/15 - IAFF Local 801
The Principal Officers will present an overview of the contract proposals that have been submitted by you, the members of Local 801. ALL LOCAL 801 MEMBERS ARE URGED TO ATTEND in order to accomplish complete transparency and understanding of the direction of the negotiating committee.
Raise a Glass of Guinness for the Leary Foundation
02/25/15 - Norwalk Fire Fighters
      As part of a nationwide campaign to raise money for the Leary Firefighter's Foundation, Guinnes is asking everyone to "Raise a Glass" to America's Firefighters.  For every photo of a person of legal drinking age raising a glass of Guinness posted to the Guiness Twitter feed or Facebook page, Guinness USA will donate $1 to the fund.
Kenosha Fire and Police Ball
02/24/15 - Waukesha Prof. Fire Fighters
MDA Boot Camp
02/24/15 - Waukesha Prof. Fire Fighters
Mukilteo Firefighters Annual Easter Egg Hunt - April 4, 2015
02/24/15 - International Association of Fire Fighters
AFL-CIO rally in Madison
02/24/15 - Waukesha Prof. Fire Fighters
Workers and community members from across Wisconsin are gearing up to make their voices heard and participate in democracy this week at the Capitol in order to halt anti-worker Right to Work legislation. Here's a list of events: 10:00 a.m. Tuesday, February 24: The Senate Labor Committee will hear public testimony from concerned citizens starting at 10:00 a.m.
YFD ST. PATRICK'S DAY SHIRTS FLYER
02/24/15 - IAFF Local 312
Firehouse Subs of Bozeman steps up to help fight cancer
02/24/15 - IAFF local 613
Local firefighters spent a few hours at Firehouse Subs in Bozeman Saturday, but not just to chow down. They were raising money for next month's 24th Annual.
Website Updates
02/24/15 - IAFF Local 794
Check out the our new look! Our website has been re-organzied and designed.
Taylor council rejects early retirement deal; 11 firefighters laid off
02/24/15 - Michigan Professional Fire Fighters Union
The Taylor City Council unanimously rejected an early retirement plan Monday, assuring for now that 11 laid-off firefighters will remain unemployed.
Firefighters face challenges in the cold
02/24/15 - Michigan Professional Fire Fighters Union
GRAND RAPIDS, Mich. (WZZM) - The extreme cold affects all of us, especially those who work outside. That includes firefighters who have an already-dangerous job and face additional challenges in sub-zero conditions.
Eastpointe, Hazel Park to vote on fire collaboration
02/24/15 - Michigan Professional Fire Fighters Union
Voters in two communities in neighboring counties are being asked to approve a unique fire department collaboration that may be their last best chance to avoid layoffs and remain solvent.
2015 MDA Boot Camp
02/23/15 - Professional Fire Fighters of New Hampshire
2015 MDA Boot Camp on May 11th registeration & information
SCS Responds to Fatal Fire - 9/3/2014
02/23/15 - IAFF Local 1744
Police investigating suspicious death in St. Clair Shores - Fox 2 News Headlines ST. CLAIR SHORES, Mich. (WJBK) - A St. Clair Shores house has had two fires in it this week.  The first time everyone survived. Since then, the family has been staying with relatives  but two days later it caught fire again.
Referendum Vote Notice
02/23/15 - Denver Firefighters Local 858
The members present at the February Union meeting believe that a change to the bylaws (Article V Section I) is vital to the membership. As such, there will be a referendum vote, and the entire membership will have the opportunity to vote on this bylaw change.
Portsmouth Open Position
02/23/15 - Professional Fire Fighters of New Hampshire
2015 Executive Board Officers
02/23/15 - Local 2580
At the 2/15/15 meeting, the following members were elected as Executive Board officers for 2015: - President: Ricky Cherry - Vice President: Jef Ryan - Secretary: Bryan Pendleton - Treasurer: Heather Robinson - A-shift Rep: Keith Gaudette - B-shift Rep: Ashley Brooks - C-shift Rep: Jake Sinkiewicz.
Registered to Vote
02/23/15 - IAFF Local 51
Are you Registered to Vote? Follow the link below to see if you are Registered to Vote.
2015 FLSA & Pay Schedules
02/23/15 - IAFF Local 21

The 2015 FLSA and Pay schedules have been posted on top of the website in PDF format.
Always Remember
02/23/15 - IAFF Local 801
FEBRUARY 23, 1982 On this night in 1982, Lt. Martin "Butch" Melody and Firefighter Joseph Halas made the ultimate sacrifice and lost their lives battling a fire at the Russo Fur Company on Osborne Street. They will live on in our hearts and memories forever.
2015 St. Paddy's Day Shirts
02/23/15 - IAFF Local 3666
ANNUAL MDA BENEFIT!!!
02/23/15 - IAFF Local 2493
Please Join Us This Saturday for Our Annual MDA Benefit.
Tim Mehrer appointed to Negotiator
02/22/15 - IAFF Local 2180
Tim Mehrer has been appointed to Negotiator for the remainder of 2015.
ALS Contract Update
02/22/15 - IAFF Local 2180
Good evening Local 2180, With negotiations between the City and IAFF Local 2180 opening in the immediate future, the E-Board and Negotiating team have developed a strategy and game plan. Workshops for the ALS Contract will be held on March 4th and 5th, from 0800-0930 in the classroom at Fire Station 4.
74 State St 2/22/15
02/22/15 - New London Fire Fighters
At 10:00 am today, Alan Rheaume was driving by this address and noticed the marquee on the old Malloves building was starting to collapse. The building was condemned and the tenants were relocated by Red Cross.
Shed Fire Evergreen Ave. 2/22/15
02/22/15 - New London Fire Fighters
At 12pm today, units were dispatched to a reported shed fire. All on duty personnel were requested to the scene due to the long stretch that was required. Members had to wade through 24 inches of snow in the front and backyard in order to reach the shed.
2014 Year in Review
02/22/15 - Kootenai County Fire and Rescue IAFF Local 2856
Yet again, 2014 was another busy year for IAFF Local 2856 and its members as we put an emphasis on giving back to our communities. We thank you for this opportunity to give you an update about the great things that our organization and other Unions have been doing around the Country this last year. Cordially, IAFF Local 2856 Executive Board Seth Hohenstreet, President Kaipo Kuehu, Vice President Justin Capaul, Secretary Pete Holley, Treasurer
How much of your money has Independence invested in TIFs?
02/21/15 - IAFF local 781
First of all, what is Tax Increment Financing? Click here for a brief explanation of TIFs.  There are several TIF projects in Independence, but the 192 acres of land at the southwest intersection of I-70 and I-470 is probably the most costly.  It's called The Falls at Crackerneck Creek TIF Project, which includes Bass Pro World.
Medicine Hat Fire Fighter Recruitment 2015
02/21/15 - Medicine Hat Fire Fighters Association Local 263
Medicine Hat Fire Department - Now Hiring Fire Fighter The City of Medicine Hat Fire Service is searching for highly motivated, adaptable and communicative team players. Our ideal fire fighter will value integrity and demonstrate pride in being consistent, responsive, reliable and accountable in the utilization of his or her unique skill sets.
Shelby Twp Firefighters shave it off for St. Baldrick's
02/21/15 - Shelby Twp. IAFF Local 1338
iframe src="https://www.stbaldricks.
Headlines Provided By:
Profirefighter.com - IAFF Website Design, IAFF Website Hosting, 100% Union Made in the USA.
GrievTrac.com - Online Grievance Tracking Software, 100% Union Made in the USA.
UnionActive.com - Website Content Management System with Powerful Communication Tools for Union Website's, 100% Union Made in the USA.
IAFFLocals.com - Complete list of IAFF locals and websites plus featured content from IAFF locals around the US and Canada.
IAFFWebsiteDesign.com - IAFF Web Design, Specifically for IAFF Local Website's, 100% Union Made in the USA.